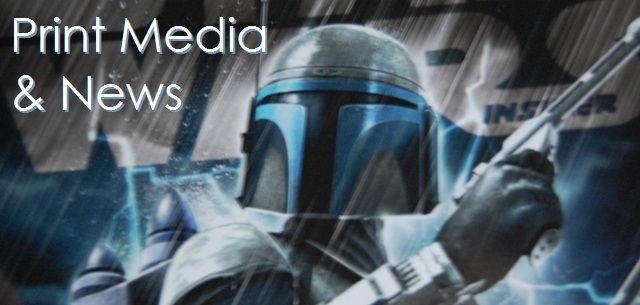 Even the harshest critic of the prequel trilogy has to admit the most engaging characters in Episode II: Attack of the Clones was the portrayal of Daniel Logan as a young Boba Fett, and his father, Jango Fett, played by actor Temuera Morrison.
Boba Fett became a fan favorite from the original trilogy, even though his back story was fleshed out more so in the expanded universe of comics and novels. However, in Attack of the Clones, we received a cinematic look at the origin and motivations of the child bounty hunter.
In October's edition of Star Wars Insider, readers are treated to two excerpts from interviews with these two actors.
From a 2005 interview, Logan recounts he was surprised when he was offered the role of a young Boba Fett after auditions. He went in thinking he was reading for the part of a Jedi. He also shares an amusing antidote of how he picked up a stick and twirled it around, pretending it was a lightsaber during the auditions.
Morrison's interview is from earlier this year and he talks about the pressure of playing such a pivotal role to the franchise. The father and son dynamic we saw on the screen, also rang true, because he took Logan under his wing during filming – treating him like his own son.
The one disappointment for Morrison, he said, was being killed off so early in the franchise. Luckily for us, we can read more about Jango and Boba in written works.
Thinking back to the prequels, it was the relationship between the bounty hunter and son that stands out the most. While these interviews are short, it's nice to receive some insight from the two actors on how they developed their characters, what it was like to work with George Lucas and relate to other cast and crew.  

Subscribe to Star Wars Insider
Complete your home library with the prequel trilogy