In 2011, Hasbro released this exclusive figure of Boba Fett (Prototype Armor) as part of its Vintage Collection. It was only available as a mail-away offer after purchasing five Star Wars action figures and sending in the UPC codes, along with shipping and handling.
Boba Fett (Prototype Armor) is a repaint of the 30th Anniversary Collection action figure. Its accessories include two blaster pistols and a jet pack, seen previously from the Concept Boba Fett in the McQuarrie Signature Series.
This figure pays tribute to the evolution of Boba Fett's character, which initially started as a glorified Storm Trooper. The back of the figures card contains the following blurb:

"This limited edition figure depicts the first costume ever produced for Boba Fett. The all-white armor reflects the character's initial concept as a 'super trooper' before he evolved into the bounty hunter he is today. This prototype design was unveiled on June 28, 1978 in a screen test shot and is being worn by the assistant film editor for The Empire Strikes Back. In the 20-minute screen test, the sound designer describes the myriad weapons and features on this armored uniform for George Lucas and the Star Wars crew. For the first time ever, we created this special action figure to commemorate the birth of this favorite character from the Star Wars saga."
Since the figure is a repaint, it doesn't exactly replicate the prototype armor seen from the screen test. The armor captured in 1978 doesn't include Wookie braids, cape, a different rocket and other details on the armor.
However, this figure might be one of my favorites. With 14 points of articulation, you can pose Boba Fett in any way you like, weather that's patiently standing and cradling a weapon to preparing to fire on an enemy. The large blaster fits well in his right hand and snugly in its holster, but the smaller blaster fits funny in his left hand. I would have also liked for the helmet to be removable with a face underneath.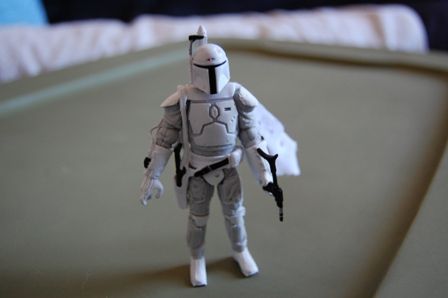 Add this figure to your own collection, click here to find sellers.