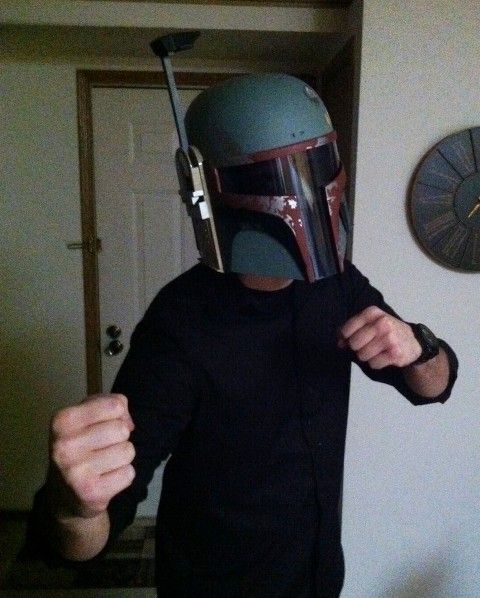 Electronic helmets have become quite a rage. Just stroll through any toy aisle and you'll see a number of them lining the shelves – however, I've had a hard time locating a Boba Fett helmet.
Finding this Mandalorian battle helmet seems to be as difficult as finding one in the actual Star Wars Universe. We lucked out on Black Friday, though. Not only did I stumble across Boba Fett's helmet, but the box was in such poor shape, I managed to scavenge it for less than $20.
The helmet is marketed toward children, but can easily fit an adult's head. Adjustable straps are snapped inside the helmet, which keeps the gear firmly on your head. These are very necessary, too. Without using the straps, the helmet is too wobbly due to its oversized modeling.
The range finder is movable and blinks red when engaged. The helmet also plays a number of phrases and sound effects, none of which come from the film, but that doesn't bother me that much – we are all familiar with Boba's half dozen quotes from the films – and those grow tired if that's all you hear with every piece of Boba Fett merchandise.
This item is ideal for role playing, whether child or adult. It also makes a great center piece for your shelf or Boba Fett display. The helmet is also quite durable for its price tag.
One thing bothers me though – the packaging refers to the range finder as an antennae. While there is antenna on that same piece, the adjustable arm is his range finder – a device that measures distance, etc. Why would a bounty hunter need to stick an antenna in front of his face?
This bothers me, because it handicaps how a kid might use the helmet to role play and stretch his imagination.