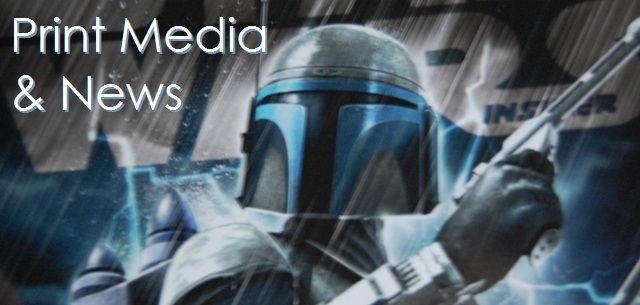 The first "Star Wars Insider" of 2013 presents a behind the scenes look at the audio play, "Smuggler's Gambit," which took fans by storm at Celebration VI this past August.
The piece includes concept art from Paul Bateman, putting a face to the characters of Ro Kurotora and Ryder Thorne. As previously reported on The Boba Bounty, the performance included a minor role of Boba Fett, voiced by The Clone War's very own, Daniel Logan.
Director Kyle Newman shares his thoughts about the production, walking us through the stages of development and reminiscing about the radio plays he listened to as a youngster. It's reinforced "Smuggler's Gambit" is a work of fan fiction, but it showcased the power of fandom and what we can create together.
If you haven't had a chance to plug into the audio play, visit www.StarWars.com/SmugglersGambit for the full audio and some behind the scenes footage.
Issue #139 also highlights the trade paperback release of "Star Wars Blood Ties: Boba Fett is Dead." The second volume of comics further delves into the genealogical consequences of the Fett family.
Dark Horse writer Tom Taylor created a stellar story of Boba Fett's fate at the hands of a vengeful figure from his past – or so it is reported through the galaxy. The story expands on the relationship between Boba Fett's half-brother, Connor Freeman, and Boba's back story as a Protector.
Quite honestly, the tale is too riveting to go into further plot points, but I highly recommend picking up the book, which was released Jan. 23.
Also, look forward to Issue #140, which teases news on the development of Episode VII. Let's hope we hear mention of our favorite bounty hunter.