Boba Fett's primary firearm is a Blas Tech EE-3 Rifle, which is a modified Stormtrooper rifle. This blaster features a fast-draw shoulder sling, electronic scope and is more powerful than standard issue blasters used by Imperial troopers.



Boba Fett's helmet is the control panel for his armor, weapons and connects him to his ship. The T-Shaped visor displays internal data feeds, streamed from his rangefinder that include the movement of targets within a 360 degree radius from a distance of 100 meters, audio analysis, comlink transmissions, access to the HoloNet, infrared scans, environmental data and encrypted messages, amongst other capabilities.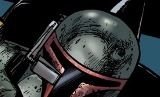 His external rangefinder can track up to 30 targets, and assists in prioritizing threats. This device allows Boba Fett to follow his prey from a distance, allowing him to take his enemy through surprise and avoid being picked up by enemy radar.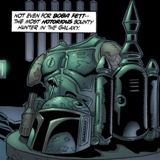 Boba Fett's wears DuraPlast constructed armor, a material used by Mandalorians after the Empire absorbed the majority of Mandalorian Iron from his father's home planet. His blast plates can block most blaster fire and blade attacks. The armor liner protects Fett from fire, acid and intense weather – which aided in his survival of the Sarlacc. The armor also produces a two hour reserve of air if he's exposed to zero oxygen or poisonous atmospheres.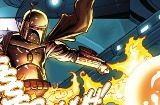 His left gauntlet features a Czerka ZX Miniature Flame Projector, which creates a cone of fire five meters long and one meter in diameter. The fuel is injected through a canister that produces three minutes of continuous fire power.


The left gauntlet also includes a MM9 Mini Concussion Rocket, which digitally tracks its target up to 25 meters. Boba Fett is armed with a variety of rockets, including stun rockets, anti-vehicle rockets and other explosive types. This weapon can also be equipped with rocket darts.


Boba Fett has also equipped his left gauntlet with a portable Dur-24 Wrist Lasers, which carry a range of 50 meters and are as powerful as blaster fire. This laser attaches directly below his flame projector and is manufactured by BlasTech Industries.


On his right gauntlet, Boba Fett has use of a fibercord whip that is 20 meters long and can entangle his opponents weapons or used to yank the off their feet. This weapon can also be alternated with grappling devices.


One of Boba Fett's most notable accessories is his Mitrinomon Z-6 Jet Pack. It holds enough fuel for one minute of continuous operation or 20 three second blasts. This fact is contradicted by its usage by Death Watch in The Clone Wars. However, its top speed is 145 kilometers per hour, and can project Boba Fett 100 meters horizontally or 70 meters vertically.


Boba Fett's jet pack also includes a missile launcher. At times he has armed this weapon with an anti-vehicle missile to achieve maximum damage on targets, but he has also been known to use ion missiles, which will cause a vehicle or craft's engine to malfunction and become immobile, but will not destroy the target or cause it to explode.