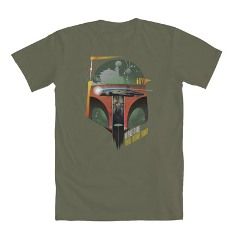 Last week, the winners of the Dark Side Design Contest were announced, including several winning tee-shirt designs featuring Boba Fett. This contest was opened in February and was an open call for all tee-shirt designers – who ended up winning some awesome prizes.
The grand prize winner was Aaron Davis, with his Boba Fett shirt design entitled, "No Place to Hide," featuring a close up image of Boba Fett's helmet, reflecting the shapes of Han Solo in Carbonite and the Millennium Falcon.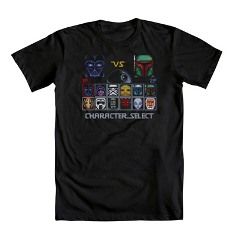 The judge's pick was "Dark Side Fighter" by Drew Wise – an old 8-bit video game approach to his design. The front of the shirt copies the classic "choose your fighter" interface, pitting Darth Vader vs. Boba Fett.
Another top selection was "The Dark Side Diner" by Gary Jensen. This tee-shirt design illustrates Boba Fett and Darth Vader sitting in a diner, a classic diner slogan is scrawled near the bottom of the image. This is probably my personal favorite of the entry winners.
You can view larger photos of these designs at www.welovefine.com, where you may also purchase the tee-shirts if they peak your interest.